Building, Refining & Scaling
Coffective solutions have been implemented in eight states and several communities so far. Our favorite part? Learning from each project and scaling successes, so even more communities can have a greater impact on their health outcomes.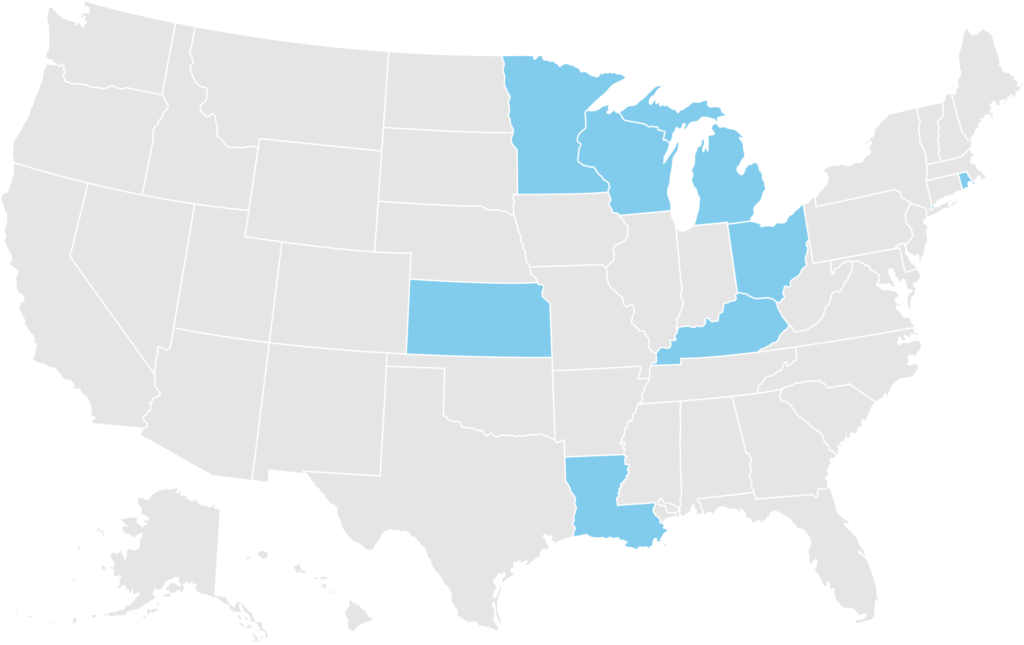 Kansas
CONSISTENT MESSAGING SOLUTION
Kansas state leaders and Coffective have enjoyed a long history of collaboration centered around creating consistent messaging and a shared agenda. Initially, work in Kansas focused on providing training and tools to WIC and home visiting staff. For true sustainability, the materials and training were embedded into statewide nutrition service agreements. Illustrating the Kansan deep commitment to community, Kansas state leaders recently brought together diverse community partners across Kansas through a program called "Communities Supporting Breastfeeding." Coffective materials were integrated into this groundbreaking program, which resulted in state- and local-level improvements in breastfeeding outcomes.
Kentucky
CONSISTENT MESSAGING, COORDINATION & HOSPITAL QUALITY IMPROVEMENT SOLUTIONS
Engagement of state-level maternal and child health organizations was the early focus of work in Kentucky. Eight state partners agreed to help initiate and amplify coordination efforts at the local-level by identifying ways their state programs could align goals and coordinate efforts.
In order to anchor a consistent message, local WIC agencies were given Coffective prenatal education materials and staff training on evidence-based maternity care practices. One-on-one coaching was also provided to 10 pilot WIC programs. The coaching focused on providing guidance on implementation of materials as well as relationship-building and community coordination with hospitals.
Finally, a cohort of 15 hospitals participated in a unique, short-track coaching program to assist with materials implementation and the advancement of evidence-based practices. Currently, a small cohort of hospitals is continuing their quality improvement journey by engaging in a one-year collaborative model called QI Jumpstart.
Louisiana
HOSPITAL QUALITY IMPROVEMENT SOLUTION
Louisiana is the home of The Gift, one of the most successful quality designation programs in the country, where birthing facilities are awarded for the implementation of evidence-based maternity care practices. Since 2011, Coffective has acted as a strategic and programmatic consultant to The Gift.
In the early years of our collaboration, Coffective provided training, tools, and implementation resources to all participating hospitals, resulting in the widespread use of materials as a foundation of quality improvement work. Many Coffective products, such as our Provider Breastfeeding Education and Ancillary Breastfeeding Education, have been inspired by and co-created with the Louisiana hospital community.
For the last four years, Coffective and The Gift leadership have worked to bring the program to the next level. Coffective strategic and clinical experts guided an update of The Gift designation criteria to honor the incredible progress made by Louisiana birthing centers in the implementation and adoption of evidence-based practices.
Coffective continues to provide ongoing technical assistance and training, as well as evaluation and communications support, to The Gift coaches and leaders. We are very proud that the result of much of our joint work in Louisiana has been a significant improvement in breastfeeding outcomes over the last five years.
300+
Hospitals that have participated in projects and materials implementation
360+
WIC agencies that have participated in projects and materials implementation
450+
Providers trained on breastfeeding promotion and support to-date
Michigan
CONSISTENT MESSAGING & COORDINATION SOLUTIONS
Since 2013, the State of Michigan and Coffective have been innovation partners for social change. Initial pilot projects, spanning from Detroit to the Upper Peninsula, focused on community collaboration and establishing consistent messaging. Coffective was also a strategic implementation partner in Flint 310 Connect, a collective impact breastfeeding initiative.
We have also worked in the hospital quality improvement space with the launch of the first QI Jumpstart collaborative. Each pilot project served as a valuable learning opportunity, creating capacity and interest in broader, statewide efforts.
Additionally, a variety of local organizations are provided Coffective training and tools. Coaching is offered to WIC and hospitals to assist with implementing materials, advancing evidence-based practices, and developing partnerships. Lessons learned are shared across Michigan.
Currently, state partners are being engaged to accelerate community coordination efforts. Regional networks are serving as backbone conveners, bringing communities together to improve maternal and child health outcomes. Community partners are participating in collaborative meetings, led by WIC, in order to build relationships and accomplish shared goals.
Minnesota
COORDINATION SOLUTION
Led by the Minnesota WIC Program, Coffective was initially engaged in a statewide initiative aimed at improving breastfeeding outcomes by building and strengthening relationships among state- and local-level organizations.
Reports were created for participating local WIC agencies, hospitals, and home visiting programs that contain contact information as well as resources and recommended action steps for collaborative activities of interest. Coaching was also provided to three pilot WIC agencies, offering guidance on developing partnerships with local hospitals. State and local breastfeeding coalitions were engaged to identify additional resources needed to serve as a convener for initiatives and partnerships. A series of three relationship-building webinars were provided to WIC agencies and hospitals to facilitate sharing of lessons learned across the state.
Currently, Minnesota is planning to engage additional state partners, provide access to Coffective's Community Match, and offer community coordination coaching to pilot communities.
Ohio
COORDINATION SOLUTION
The Ohio WIC Program partnered with Coffective in an initiative that takes a state- and local-level approach in working toward community coordination. First, state-level organizations were engaged to identify opportunities for aligning program goals as well as sharing program information and resources. At the local level, reports were provided to participating WIC agencies, hospitals, and home visiting programs. The reports contain recommendations and tools for advancing partners' efforts, which are customized based on the needs, priorities, and interests of their communities.
Next, Ohio is planning to engage additional state partners and provide local organizations access to Coffective's Community Match platform. Ohio is also offering community coordination coaching, where WIC agencies will lead collaborative meetings with community partners.
1,000+
WIC staff in each state trained on maternity care practices to date
2,000+
Nurses trained on evidence-based maternity care practices to date
25,000+
Downloads of the Coffective mobile app to date
Rhode Island
CONSISTENT MESSAGING SOLUTION
The Rhode Island Department of Health WIC Program partnered with Coffective with the goal of improving breastfeeding outcomes by prenatally preparing mothers. So far, Rhode Island WIC agencies are being educated on evidence-based maternity care practices and implementing consistent breastfeeding materials.
Wisconsin
CONSISTENT MESSAGING & COORDINATION SOLUTIONS
Coffective's work initially began when the Wisconsin WIC Program and Chronic Disease Prevention Unit engaged Coffective in a statewide initiative to educate hospitals about WIC, align hospital and WIC messaging, implement evidence-based practices in the hospital, and increase referrals to WIC services. This included implementing Coffective staff training and patient education across all WIC agencies, and offering these same resources to local hospitals and prenatal clinics. Coaching was also provided to assist with materials implementation and the advancement of evidence-based practices.
This work soon evolved beyond WIC, hospital, and even prenatal clinic walls. Eleven state organizations were engaged to accelerate coordination efforts across all key community partners. Participating local organizations were provided access to Coffective's Community Match platform to further facilitate connections and offer collaborative activity resources. Currently, Wisconsin communities are diving into coordination coaching. Led by hospitals, community partners are being brought together to accomplish shared goals and better serve local families.
500,000+
Births per year reached
by Coffective projects and materials